Newsletters
July 11, 2017
Office Summit Recap
Last week our own
Jessica Perryman
attended the
​2017 Office Summit
put on by
MetroWireMedia!
Stay tuned for a recap of the event below!
Millennials:
Millennials were a key discussion point when it came to many of the topics. Something of note; tenants will pay more for amenities to attract the millennial workforce.
Coworking:
It wouldn't be an office summit without discussing one of the hottest trends in Kansas City right now! Everyone was in agreement that this trend isn't going anywhere!
Downtown Locations:
Nothing says "live/work/play" more than a central downtown location! Suburban locations are incorporating many of these amenities as well.
Market Opportunities
: Many investors from the East and West coasts are looking for investment opportunities in the Kansas City area. This is especially true for office property types!
For a more in-depth look at the events of that day please click
here
to read MetroWire's own recap!
July 5, 2017
WHITE HOUSE FACT SHEET 2018 BUDGET: INFRASTRUCTURE INITIATIVE
Importance of Infrastructure
The President has consistently emphasized that the Nation's infrastructure needs to be rebuilt and
modernized to create jobs, maintain America's economic competitiveness, and connect communities and
people to more opportunities. The United States no longer has the best infrastructure in the
world. For example, according to the World Economic Forum, the United States' overall
infrastructure places 12th, with countries like Japan, Germany, the Netherlands,
and France ranking above us. This underperformance is evident in many areas, from our congested
highways, which costs the country $160 billion annually in lost productivity, to our deteriorating
water systems, which experience 240,000 water main breaks annually.
The Current System is Not Working
The Federal Government inefficiently invests in non-Federal infrastructure. In part, our lack of
sustained progress has been due to confusion about the Federal Government's role in infrastructure.
During the construction of the Interstate System, the Federal Government played a key role –
collecting and distributing Federal tax revenue to fund a project with a Federal purpose. As we
neared the completion of the Interstate System, those tax receipts were redirected to projects with
substantially weaker nexus to Federal interests.
The flexibility to use Federal dollars to pay for essentially local infrastructure projects has
created an unhealthy dynamic in which State and local governments delay projects in the hope of
receiving Federal funds. Overreliance on Federal grants and other Federal funding can create a
strong disincentive for non-Federal revenue generation.
At the same time, we continue to apply Federal rules, regulations, and mandates on virtually all
infrastructure investments. This is despite the Federal Government contributing a very small
percentage of total infrastructure spending. Approximately one-fifth of infrastructure spending is
Federal, while the other four-fifths are roughly equally divided between State and local
governments on one hand and the private sector on the other.
We will reevaluate the role for the Federal Government in infrastructure investment. For example,
in the Interstate System, the Federal Government now acts as a complicated, costly middleman
between the collection of revenue and the expenditure of those funds by States and localities. Put
simply, the Administration will be exploring whether this arrangement still makes sense, or whether
transferring additional responsibilities to the States is appropriate.
The Administration's Goal: Seek and Secure Long-Term Changes
Given these challenges, the Administration's goal is to seek long-term reforms on how
infrastructure projects are regulated, funded, delivered, and maintained. Providing more Federal
funding, on its own, is not the solution to our infrastructure challenges. Rather, we will work to
fix underlying incentives, procedures, and policies to spur better infrastructure decisions and
outcomes, across a range of sectors.
Key Principles
As the Administration develops policy and regulatory changes, and seeks statutory proposals working
with Congress, we will focus on proposals that fall under the following key principles:
1. Make Targeted Federal Investments. Focusing Federal dollars on the most transformative
projects and processes stretches the use and benefit of taxpayer funds. When Federal funds are
provided, they should be awarded to projects that address problems that are a high priority from
the perspective of a region or the Nation, or projects that lead to long- term changes in how
infrastructure is designed, built, and maintained.
2. Encourage Self-Help. Many States, tribes, and localities have stopped waiting for Washington
to come to the rescue and have raised their own dedicated revenues for infrastructure. Localities
are better equipped to understand the right level – and type – of infrastructure investments needed
for their communities, and the Federal Government should support more communities moving toward a
model of independence.
3. Align Infrastructure Investment with Entities Best Suited to Provide Sustained and Efficient
Investment. The Federal Government provides services that non-Federal entities, including the
private sector, could deliver more efficiently. The Administration will look for opportunities to
appropriately divest from certain functions, which will provide better services for citizens, and
potentially generate budgetary savings. The Federal Government can also be more efficient about
disposing underused capital assets, ensuring those assets are put to their highest and best use.
4. Leverage the Private Sector. The private sector can provide valuable benefits for the delivery
of infrastructure, through better procurement methods, market discipline, and a long-term focus on
maintaining assets. While public-private partnerships will not be the solution to all
infrastructure needs, they can help advance the Nation's most important, regionally significant
projects.
2018 Budget
The President's target of $1 trillion in infrastructure investment will be funded through a
combination of new Federal funding, incentivized non-Federal funding, and newly prioritized
and expedited projects. While this Administration proposes additional funding for infrastructure,
we will structure that funding to incentivize additional non-Federal funding, reduce the cost
associated with accepting Federal dollars, and ensure Federal funds are leveraged such that the end
result is at least $1 trillion in total infrastructure spending.
While we will continue to work with the Congress, States, tribes, localities, and other
infrastructure stakeholders to finalize the suite of Federal programs that will support this
effort, the 2018 Budget includes $200 billion in outlays related to the infrastructure initiative.
In addition to the $200 billion, these proposals are also in the 2018 Budget:
• Air Traffic Control Corporatization. The Budget proposes to create a non- governmental entity
to manage the nation's air traffic control system. Many countries have corporatized their air
traffic control function, separating it from the governmental aviation safety regulation function.
This will be a multi-year effort resulting in a more efficient airspace while maintaining our
premier aviation safety record. The proposal would reduce aviation passenger taxes and the new
entity would be responsible for setting and collecting fees directly from users based on their use of the Nation's airspace.
• Increase Infrastructure Flexibility at VA. The Department of Veterans Affairs (VA) has a
nationwide physical footprint that includes aging facilities, which are not always located where
veterans most need care. The Administration will pursue numerous
reforms to help VA acquire and maintain the facilities necessary to provide veterans high quality
medical care where they live. The Budget includes proposals to expand VA's authority to lease out
its vacant assets for commercial or mixed-use purposes and to speed its ability to pursue facility
renovations and improvements. Future reforms will encourage public-private partnerships and reduce barriers to acquisition, contracting, and disposals.
• Divestiture of the Power Marketing Administration's (PMA's) Transmission Assets.
The Budget proposes to sell the PMA's transmission assets. Investor-owned utilities provide for
the vast majority of the Nation's electricity needs. The PMA's transmission infrastructure assets
(lines, towers, substations, and rights of way) could be leased out so the private sector could
fulfill transmission functions. Leasing these assets will more efficiently allocate economic
resources and help relieve long-term pressures on the Federal deficit related to future Federal
capital investment.
• Reform the laws governing the Inland Waterways Trust Fund. The Budget proposes to reform the
laws governing the Inland Waterways Trust Fund, including by establishing a fee to increase the
amount paid by commercial navigation users of inland waterways.
In 1986, the Congress mandated that commercial traffic on the inland waterways be responsible for
50 percent of the capital costs of the locks, dams, and other features that make barge
transportation possible on the inland waterways. The additional revenue proposed in the Budget
will finance future capital investments in these waterways to support economic growth.
Illustrative Examples of Funding Proposals
The following proposals will be pursued by the Administration as part of the Infrastructure
Initiative.
• Expand the Transportation Infrastructure Finance and Innovation Act (TIFIA) Program. TIFIA
helps finance surface transportation projects through direct loans, loan guarantees, and lines of
credit. One dollar of TIFIA subsidy leverages roughly $40 in project value. If the amount of
TIFIA subsidy was increased to $1 billion annually for 10 years, that could leverage up to $140
billion in credit assistance, and approximately $424 billion in total investment. In addition, the
Administration supports the expansion of TIFIA eligibility.

• Lift the Cap on Private Activity Bonds and Expand Eligibility to Other Non-Federal Public
Infrastructure. The Private Activity Bonds (PABs) program allows the Department of Transportation
to allocate authority to issue tax-exempt bonds on behalf of private entities constructing highway
and freight transfer facilities. PABs have been used to finance many Public Private Partnerships
(P3s) projects, along with TIFIA. As of August 15, 2016, nearly $11.2 billion in PABs have been
issued for 23 projects. The Administration recommends removing the $15 billion cap under current
law to ensure that future P3 projects can take advantage of this cost-saving tool, and encourage more project sponsors to take advantage of this tool. The Administration also supports the expansion of PAB eligibility.
• Incentivize Innovative Approaches to Congestion Mitigation. The Urban Partnership Agreement
Program – and its successor, the Congestion Reduction Demonstration Program – provided competitive grants to urbanized areas that were willing to institute a suite of solutions to congestion, including congestion pricing, enhanced transit services, increased telecommuting and flex scheduling, and deployment of advanced technology. Similar programs could provide valuable
incentives for localities to think outside of the box in solving long-standing congestion challenges.
• Liberalize Tolling Policy and Allow Private Investment in Rest Areas. Tolling is generally
restricted on interstate highways. This restriction prevents public and private investment in such
facilities. We should reduce this restriction and allow the States to assess their transportation
needs and weigh the relative merits of tolling assets. The Administration also supports allowing
the private sector to construct, operate, and maintain interstate rest areas, which are often
overburden and inadequately maintained.

• Fund the Water Infrastructure Finance and Innovation Act program (WIFIA) Program. The
Environmental Protection Agency's new WIFIA loan program is designed to leverage private
investments in large drinking water and wastewater infrastructure projects, particularly those
large, high-cost projects that have private ownership or co-investment. Because WIFIA loans can only support up to 49 percent of a project's eligible cost, the Federal investment must be leveraged with non-Federal sources.

• Encourage the Use of Army Corps of Engineers (Corps) Contributed/Advanced Funding Authorities. Most construction work by the Corps is funded on a cost-shared basis between the Corps and a non-Federal sponsor. However, many projects authorized for construction, though a priority for non-Federal sponsors, do not present a high return
for the Nation and therefore do not receive Federal funding. Some non-Federal sponsors have
therefore chosen to fund construction activities on their own. The Administration will leverage
the Corps' authorities to enter into such agreements to take advantage of this innovative approach
to delivering projects.
New Federal Tools:
The Federal Budget is recorded on a cash basis, which provides a transparent mechanism to record
and control spending. Given the size of the Federal Government, cash budgets make sense because
they are less complicated to produce and less subject to changes in economic assumptions. However, cash budgeting may not give appropriate weight to the long-term benefits of investing in
infrastructure and cause the Government to make project choices that have lower short-term but
higher-long term costs. We should discuss different tools to support better decision-making while
maintaining transparency and fiscal restraint, such as:
• Federal Capital Revolving Fund. The Administration is developing a proposal to establish a
mandatory revolving fund for the financing of Federally-owned civilian capital assets. The Fund
would be repaid with annual appropriations, and would help address the underinvestment in capital
assets driven in part due to the large upfront costs of such procurements. Creation of such a fund
parallel to the appropriations process to fund investment in Federally-owned civilian capital
assets would avoid capital investments having to compete with operating expenses in the annual
appropriations process. Instead, agencies would pay for capital assets as they are utilized. The
repayments would be made from future appropriations, which would provide an incentive to select
projects with the highest return on investment, including future cost avoidance.
• Partnership Grants for Federal Assets. In a number of sectors, the Federal Government has
utilized loans to non-Federal partners to improve infrastructure. However, credit assistance
cannot be utilized to improve Federal assets. In essence, the Government neither can loan itself
funding, nor can it make loans to private entities to improve assets that will remain Federal. In
some circumstances, however, a private partner might want to build or improve a Federal facility and donate it to the Government in exchange for the right to retain revenue from the associated activities. The Administration is developing a proposal to offer those partners grants in lieu of loans to buy down the cost of a Federal asset improvements, which would benefit both the Government, through new facilities for Government use, and the non-Federal partner, through continued access to revenue sources.
Environmental Review and Permitting Process Enhancements.
The environmental review and permitting process in the United States is fragmented, inefficient,
and unpredictable. Existing statutes have important and laudable objectives, but the lack of
cohesiveness in their execution make the delivery of infrastructure projects more costly,
unpredictable, and time-consuming, all while adding little environmental protection. The
Administration will seek several proposals that will enhance the environmental review and
permitting process, such as:
• Improving Environmental Performance. The inefficiencies of the current process result in too much time and too many resources dedicated to time-intensive analyses that do not necessarily
improve the environment. The Administration will propose pilot programs to experiment with
different ways projects will perform to better protect and enhance the environment.
• Accountability. The review and permitting of projects should be included in each agency's
mission, and their performance should be tracked and measured. For agencies that significantly
underperform, the public should know how much that costs both the taxpayers and the project. The
Administration will seek proposals for tools to start holding agencies accountable for their
performance.
• One Federal Decision. Project proponents have to navigate the Federal environmental review and
permitting process on their own. Under the current system, project sponsors work with one agency,
only to be told to stand in line with several other agencies for numerous other approvals. We can
do better. The Federal Government is capable of navigating its own bureaucracy and designating a
single entity with responsibility for shepherding each project through the review and permitting
process.
• Unnecessary Approvals. The funding of infrastructure is predominately State, local and
private, yet the Federal Government exerts an inordinate amount of control over all infrastructure
with unnecessary bureaucratic processes. The Administration supports putting infrastructure
permitting into the hands of responsible State and local officials where appropriate.
• Judicial Reform. The current standards of judicial review force Federal agencies to spend
unnecessary time and resources attempting to make a permit or other environmental document
litigation-proof. The Administration believes our resources would be better spent on enhancing the
environment rather than feeding needless litigation. As such, the Administration will submit
proposals that curtail needless litigation.
June 12, 2017
Five CRE Market Trends We Could See in 2017
With the new year rapidly approaching, what can we expect for the CRE Market? We've taken a look around the internet and collected some of the possible market conditions for your reading pleasure!
Mixed-Use: Investors are starting to see mixed-use property types as a safer bet in this economic climate. However, this may require compromises from investors and tenants.
REITs! REITs! REITs!: Because of the uprise in the work, live, play mentality, the demand for office space may decrease; however, retail, multifamily, and industiral demand should remain high. In addition to this, transactions may continue to decline and upward momentum in pricing is likely to slow down due to modest economic growth and ongoing political uncertainty. What potential investors are being cautious about are potential interest rate rises and credit availability going forward.
Labor in the Construction Indusrty: Changes in the job market have put some pressure on the labor force of the construction industry. This worker shortage means a longer development timeline and more delays. Construction companies may also be more selective about which projects they choose to take on.
Global Markets: Unforseen political issues and conflicts make for a less stable global economy. Implications could be economic deceleration and less investment in real estate.
New Types of Goods/Services: We've written several posts about the growing virtual/sharing economy, and there's no doubt that it will play a huge part in the economy in 2017. With this burst of new economic growth will come new types of regulations; the implications of which are unforseen at the moment. Next year will hopefully give us a more solid look at the sharing economy and the impact on the CRE market.
How do you think the CRE market will look in the New Year?
June 12, 2017
Everything You Need to Know About NNN Leases
We're friends with some pretty smart people. This week we interviewed NNN expert Jacob Baratz, Associate Advisor with Marcus & Millichap.
Valbridge Property Advisors: What are you seeing with cap rates (in terms of increasing, decreasing or holding steady)?
Jacob: "Although transactional velocity has eased, pricing and yields have remained remarkably steady. The limited development during this cycle and balanced debt levels have kept cap rates relatively steady despite rising Interest Rates and tapering transactional activity. Although some buyers are choosing to postpone acquisition plans based on the belief that rising interest rates will push cap rates higher, very little elevation in cap rates has thus far emerged."
Valbridge Property Advisors: What are you seeing for a spread versus treasuries and where does the market see them heading?
Jacob: "The rapid 75-basis-point post-election surge in the 10-year treasury rate opened a disconnect between buyers and sellers as they attempted to reconcile higher lending costs. Since the beginning of the year, the 10-Year treasury rate has largely stabilized in the mid-two-percent range, but we anticipate rising inflation will cause the Federal Reserve to further tighten monetary policy – adding to the current rising interest rate climate. However, it should be noted that the alignment of cap rate and interest rate movement is far from linear, as demonstrated repeatedly over the last 10 years."
Valbridge Property Advisors: What are some of the NNN properties you've seen lately that stand out?
Jacob: "We believe rising wages will lift discretionary income and together with elevated consumer confidence, spur spending that will support demand for retail space – expanding grocery stores, casual dining restaurants and service based businesses (that cannot be supplanted by e-commerce) have filled retail centers and pushed vacancy rates to their lowest levels since 200."
Valbridge Property Advisors: What are some up and coming NNN properties in your opinion?
Jacob: "Again, we believe that service based business will continue growth throughout 2017. These retailers, that cannot be replaced by e-commerce are likely to face steady demand – retailers like Advanced Auto Parts, AutoZone, O'Reilly."
June 12, 2017
Everything You Need to Know About Valbridge Market Studies
Here at Valbridge | KC, we pride ourselves on our flexibility when it comes to different report types within the appraisal industry. This week we talk with our own Daniel Kann, MAI about Market Studies; specifically what they are and why they are so important. We hope you'll learn something from Daniel in this post, we certainly did!
What is a Market Study?
"A market study identifies the demand drivers for a particular type of property in a specific market or submarket. It calculates the residual demand based on current and projected growth and the amount of existing and future supply. In comparison, a marketability study focuses on how one particular property will interact within a market or submarket. Market studies are most commonly used in the multifamily space due to apartment projects being built on a speculative basis."
Why Don't Very Many People Perform Market Studies in KC?"Market analysis is part art and part science and requires an in-depth analysis of the underlying fundamentals that drive supply and demand for a particular property type. The level of analysis included in a market study is not commonly utilized in daily appraisal practice creating a specialized niche within the valuation industry."
Besides Here, Where Else Have You Performed These Studies?
"I have recently traveled to Dallas, Richmond, Detroit, Jersey City, and New Orleans for market analysis. Traveling to an unfamiliar place and spending the time necessary to gain geographic competency allows you to learn interesting things about a particular city. After studying the urban core of Richmond, Virginia, my wife and I decided Richmond was a place that we would enjoy visiting and are planning to travel there in the near future."
We hope you were able to learn a little more about Market Studies! If you are interested in learning more or having a market study performed, click here to contact Daniel Kann.
February 1, 2017
JOHN PERRY GENERAL CERTIFIED
Congratulations to Valbridge | Kansas City's own John Perry! He just received his Certified General Appraisal License!
August 8, 2016
10 Tips for Beginners in the Appraisal Industry
Valbridge | Kansas City understands how difficult it can be to land your first job in the appraisal industry and in light of our recent opening for a Research Analyst, we've decided to give you our best tips for beginners to the field.
1. Be UTD on the Latest Commercial Real Estate News
We spend a great deal of time pouring over real estate blogs, business journals, and scholarly articles in order to do our jobs to the best of our ability. Things can change in an instant in this field, so we have to make sure we are up to date on what's going on in commercial real estate.
2. Get to Know the Competition
Not only do we know our competitors, but we are friends with many of them! In real estate appraising it's important to know the firms in your area in order to gain better footing in the industry. There are instances when we will refer work to outside firms, and they will do the same for us.
3. Be Personable
Whether we're doing field work for a client or chatting with associates at a networking event, people skills are extremely important in the CRE world. In many cases, being personable goes a long way in getting the information you need for an assignment.
4. Be Committed to Continuing Education
The work doesn't stop once you land the job. In appraising, we have to continuously maintain certifications and take classes to make sure we have the most timely information and training. For example, a General Certified license requires 300 hours of education.
5. Find a Firm that's Right for You
It's incredibly important to get to know yourself and your needs in training. Some firms employ a "sink-or-swim" method of training, while others (like us) employ very thorough practices in getting our employees up to speed.
6. Find a Mentor in the Industry
Having an industry insider for advice really helps get you through those first few months. We promote a team-like atmosphere here in our office and find that it's incredibly helpful to new hires.
7. Have a Sense of Humor
It's easy to forget to not take things so seriously sometimes. Most of the time we're hard at work here at Valbridge, but we also love to send funny emails, prank each other, and go on fun office outings!
8. Have a Passion for Development and Real Estate
Many of the people who work at Valbridge come from different backgrounds, but all share a passion for commercial real estate. Doing something in the field you love makes everything worthwhile.
9. Have a Passion for your City!
One of the reasons our appraisers enjoy their jobs so much is because they love getting to work on projects in the Kansas City area. Imagine getting to work on a property you've always loved, or for a local client you admire. Getting to know Kansas City so well is an awesome perk; it's like having a backstage pass to the city!
10. Have a Fire in your Belly
This career path is not for the faint of heart. Motivation is key in being a successful appraiser, and many people do not make it past the six-month mark. There will definitely be humps in the beginning (as with any job), but the end result is an extremely rewarding and well-paying career.
June 29, 2016
Appraisal of Underground Natural Gas Storage Rights in Depleted Reservoirs
Download
Natural gas may be stored underground in depleted gas and oil fields. A developer of underground gas storage fields may seek to assemble the rights to several thousand acres, but the developer may only be interested in buying the rights to strata that, on average, are 1,000–5,000 feet below the surface. What is the market value of rights for these reservoirs? Where does the appraiser find comparable sales or rents? This article offers a brief discussion of the underground gas storage market, and how understanding rules relating to eminent domain valuation can guide the appraiser to a logical, defensible conclusion of value.
June 29, 2016
Top 5 FAQs of 2015
Do you have an appraisal question you want to ask, but feel like you're the only one with it? For the New Year we caught up with our Senior Managing Director, Laird Goldsborough, on frequently asked questions he received in 2015, and the answers he gives. Check out the list below to see if your question is answered.
How much does a standard commercial report cost?
Answer: It depends. What the report will be used for, interest appraised, property type, etc. all come into play.
Can you send me a copy of the report (prepared for a bank, for example)?
Answer: We can, but only if you are our client or if we get permission from our client - per regulations (USPAP). Client = person who engaged us. If you are the property owner, but did not engage us we must have permission to send you a report copy even though it's your property.
Can you get the appraisal completed in two weeks?
Answer: Mostly likely no. The appraisal process is threefold: gather, analyze, report. To go through all three steps and arrive at a reliable value the average time it takes for a report is three weeks, but often longer.
Can you just tell me what the value is? I don't need much in writing - maybe a page ...
Answer: No, per regulations (USPAP). As stated in the question above, to come to a reliable value you must go through the appraisal process of gathering data, analyzing the data and reporting the findings. Depending on your needs, a restricted appraisal may work for you. It is a shorter report. The appraiser does the same amount of data gathering and analysis, but much of the information is retained in the appraiser's work file instead of written into the report.
Can I just get an update (of a report written five years ago)?
Answer: No. The market changes, and with it real estate values change as well.
November 3, 2015
Report Types Uncovered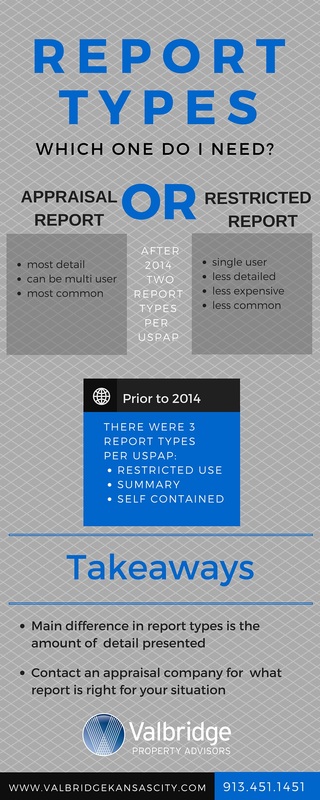 September 21, 2015
What is an MAI Designation?
The MAI designation is earned from the Appraisal Institute, signifying a high level of experience, education and ethics in the valuation of commercial and other types of property.
What is the Appraisal Institute and why is it credible?

The Appraisal Institute is made up of nearly 21,000 professionals across the world. According to its website: "For more than 80 years, the Appraisal Institute has been the world's leading organization of professional real estate appraisers. The organization has led the way in fostering and promoting the highest standards of practice through its designation programs, peer review process, education, research and publishing endeavors."
How do you become MAI Designated?

As deemed by the Appraisal Institute the criteria for an individual to become MAI designated is as follows:
Have good moral character
Meet standards and ethics requirements
Hold a four year degree from and accredited college or university
Receive credit for 4,500 hours of specialized experience
Pass 13 classes that reflect 350 cumulative hours of instruction
Pass a two-day comprehensive exam
Receive credit for a demonstration appraisal report
To learn more about the requirements to become MAI designated, here!
Why is it important?
Those working with an MAI designated appraiser know that they have the experience, knowledge and commitment to the profession. MAIs agree to adhere to the Appraisal Institute's strict code of professional ethics. Continuing education and discipline for not following ethics and standards ensure that MAI's are at the top of their game. The Appraisal Institute explains further, "The MAI designation has long been recognized by courts of law, government agencies, financial institutions and investors as a mark of excellence in the field of real estate valuation and analysis." MAIs are equipped to value complex properties and provide in-depth market research, instilling confidence in their valuations.
How can I find an MAI appraiser?
Valbridge Property Advisors has nearly 200 MAI designated appraisers on staff. Our Kansas City office now boasts six MAI appraisers: Bernie Shaner, MAI; Laird Goldsborough, MAI; Jason Roos, MAI; TJ Hawks, MAI; Daniel Kann, MAI and Andrew Baker, MAI. You can also use the 'Find an Appraiser' search function on the Appraisal Institute website and search by designation.
Want to learn more? https://www.appraisalinstitute.org/
August 3, 2015
A Behind the Scenes Look at CRE Appraising
A Behind the Scenes Look at CRE Appraising
Have you ever had an appraiser come out, look at your property for a short time, leave and you think I just paid how much for that? There is actually a lot more that goes into your CRE appraisal report than the inspection. The aim of this post is to give you a behind the scenes look at the Valbridge Property Advisors | Shaner Appraisals process. Our appraisal process is threefold: gather data, analyze data and report the data. The property inspection is just one part of the process and falls within the 'gather data' section.
June 9, 2015
Five Things You Must Know Before Selecting a Commercial Real Estate Appraiser
Five Things You Must Know Before Selecting a Commercial Real Estate Appraiser
6/9/2015
1. Licenses and designations are important
Commercial real estate appraisers can be General Certified by their respective states, and hold the MAI designation from the Appraisal Institute, which signifies the highest achievement in real estate appraisal.
2. Experience with the local market
Identify appraisers who are specialists in the subject property type, and are deeply familiar with the surrounding market.
3. The market's view of the firm
There is a reason that certain appraisal firms have been in business for many years. A reputation for integrity, quality, and reliability are important and the market they serve recognizes that.
4. Your goals for the appraisal process
What appraisal problem are you trying to solve? Is there a potential purchase or loan? Are you interested in appealing your taxes? Is there an IRS question (estate planning, inheritance)?
5. The difference between a restricted report and an appraisal report
There are two types of reports that you can order from a professional real property appraiser. A restricted appraisal is typically used for internal purposes (e.g. making sure you are not paying too much or leaving money on the table), and it assumes the user of the appraisal is very familiar with the property. An appraisal report is a more detailed document often used by lenders, attorneys, CPAs, etc., and includes more information than a restricted appraisal. Both appraisal types should give you the same answer (value conclusion), but the level of reporting detail changes.